Our Projects
Schools Programme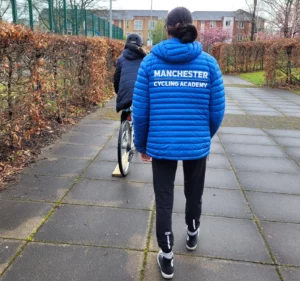 Working in partnership with Manchester Schools PE Association, we have secured funds to visit schools in South Manchester to carry out activities including bike servicing, help for students to maintain their bikes and improve their cycling skills.
The programme follows our Repair, Ride, Discover, Compete Model. We begin with a visit to the school where students and staff can bring their bikes into school to get them repaired for free.
Following this we work with small groups to encourage them to ride safely and build up their skills off road, they can be taken on group rides out of school or to compete against other schools.
Would you like your school to take part in this programme? Contact us to see how we may be able to help you. We have a small amount of funding left so we may be able to visit you for free.
Moss Side Bike Library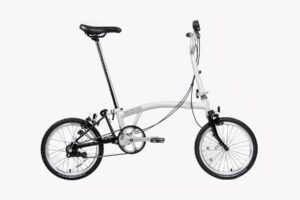 We have received funding from Transport for Greater Manchester to host a bike library Moss Side, Manchester. The scheme will be run by Manchester Cycling Academy, in partnership with Manchester Metropolitan University.
The concept is simple, if anyone wants to borrow a bike they can, for free!
We offer a variety of bikes. Some for free, some which require payment. We also offer bike servicing and repairs the local community.
If you have a bike you wish to donate or would like to get involved, then please do get in contact with us.
Gear Up!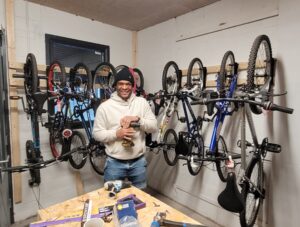 We run a twice weekly bike club at our workshop in Moss Side, Manchester where young people can come down, get their bike mended, learn new skills and meet new friends.
Funded by Manchester City Council, 'Gear Up!' provides young people with skills they can take forward into education and employment, improve their physical and mental health and reduce isolation.
Our staff are skilled youth workers, bike coaches and bike mechanics and will take them on rides out of Manchester, provide them with a bite to eat and a listening ear if needed.
If you know someone who would enjoy one of these sessions, then get in touch HERE or via WhatsApp by clicking the link to the right of the page.
Free Fridays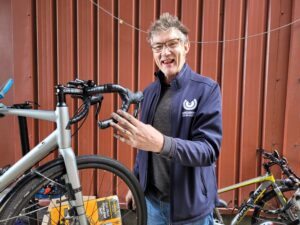 Our popular FREE Friday sessions are open to anyone who would like to get their bike repaired. We are funded by Cycling UK through the Big Bike Revival fund which allows us to provide free bike repairs to anyone who needs them.
In addition we offer professional bike repairs and servicing carried out by qualified bike mechanics. As we are a social enterprise, our prices are often cheaper than traditional bike shops. You can check our prices HERE.
As we can often get very busy, we operate a booking system where you can book your service online. You can CLICK HERE to book your service.